We can produce Wiring Harness specific to your application. NGW currently supply to both OE's, Tier 1 and Tier 2 Suppliers in the Automotive Industry. We are happy to quote to your specific requirements and we can also contract our Engineering Services if you need assistance in design or system integration.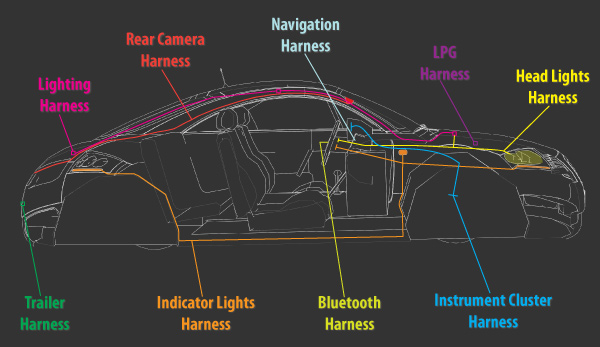 We can provide:
1./ Custom wiring harness for modified vehicles
2./ Manufacture of wiring harness for vintage and classic cars
3./ Low, medium and high volume wiring harness production
4./ Battery and power supply wire harness assemblies
5./ Boat and other Water Craft
6./ Plant Equipment & Machinery
7./ Industrial Wiring Harnesses
..........and most other applications
Rear Camera Wiring Harness
We can create custom harnesses for your reverse camera. This makes for easy installation. The harness can also integrate power and activation cable for auto switching when car or truck is in reverse. We can also add a switch for manual switching between multiple reverse cameras. We currently supply wiring harnesses to various trucks and passenger vehicle manufacturers.
You can also order extended wiring harnesses to use for trailer reverse cameras.
Lighting Wiring Harness
Wiring harnesses for interior lighting can be created, whether you are creating your own custom vehicle or want a harness for larger productions, we can cater for all you needs. With the latest in crimping machines, we can supply the wiring harness in the shortest time possible.
Navigation Wiring Harness
We currently provide SatNav wiring harnesses for Ford and Holden vehicles, connecting everything from the GPS receiver to the main navigation module and external speaker if applicable.
Machinery Wiring Harness
These type of harnesses are industry specfic and can be tailored to meet your requirements.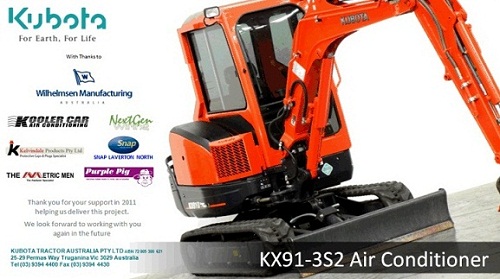 LPG Wiring Harness
We currently produce various LPG wiring harnesses for LPG tanks suited for many passenger vehicles. Our components are of the highest quality and all work is done in Australia at our Lynbrook site, only 30 minutes drive from Melbourne.

Head lights Wiring Harness
In addition to being able to manufacture LPG wiring harnesses, we can also do all the wiring harnesses for the headlights, indicators and rear brake lights.
Trailer Wiring Harness
This wiring harness is well sought after by trailer manufacturers that don't want the hassle of producing their own harness in house. We have the latest machines to ensure that the harness is produced up to the latest OEM standards.
A trailer wiring harness connector cable can also be created to be added to the rear of the vehicle in order to connect a trailer and have the brake and indicator lights running correctly. Trailer manufacturers can now take advantage of our services to speed up their manufacturing process.
Indicator Wiring Harness
Indicator lights wiring harness is critical in all vehicles as there must be a way to indicate turning intentions to other drivers.
Bluetooth Wiring Harness
These wiring harnesses can be produced for aftermarket Bluetooth kits or steering wheel Bluetooth buttons installed in the manufacturing plant, making installation quick and easy.

Instrument Cluster Wiring Harness
Whether you are building your own race cars or building thousands of vehicles, we can create the instrument cluster wiring harness to suit your needs.
Boat Wiring Harness

We are able to source waterproof components such as waterproof fuse holders for your boat wiring harness as well as able to create a water proof wiring harness to connect anything from GPS.
All our harnesses feature double insulation and standard colours. We can also create wiring harnesses to connect 2 batteries to your boat. Other harnesses that we can create are for pumps, battery boxes, navigation lights, docking lights, bilge pumps, switch panel and underwater pumps.
Make sure you use a certified harness manufacturer to help protect the safety of your family and boat, as we make sure we use circuit breakers and correct wiring procedures by our highly trained staff.
Contact us now to receive a quote for your next project. Get a quick email quote by sending us your requirements here..